2012 Kaboom! Magazine! College Football Preview:
Freshmen's lost on campus, long line at the financial aid office, terrible commons food, and back to school dances these annoying events can only mean one thing….COLLEGE FOOTBALL IS BACK! With everything that has gone on in college football since the last game in January, it's about time that we see Lee Corso mascot face entertaining us on Saturday morning. Kaboom! Magazine.com helps you get ready for Saturday morning by previewing the 2012 season in our annual Kaboom! College Football Preview. We will go in-depth into the college season and let you know Who the favorite to win the National Championship?, Who gonna win the Heisman?, What teams and players will make an impact this year?, and What are the must-see games of 2012? Class is now in session and Kaboom! is the teacher ready to give you the study guide to a great 2012 season. Let's get started shall we…..
BCS National Championship Contenders:
Barkley and USC are back in the thick of things, but can the Trojans break the strangle hold that SEC has on the BCS National Championship?
Southern Cal: After years of treading water, what will happen under Lane Kiffin when it becomes Pac-12 title or bust? USC will be the hottest team going into the season because it's eligible to play for a BCS National Championship again. There might not be a better starting 22 in college football than the Trojans led by Heisman hopefuls Matt Barkley and Robert Woods. The D line needs some reworking and it's never a positive to lose a left tackle as good as Matt Kalil, but there's talent all across the board…so it only a matter of time before a star is found in Southern California. The offense is expected to score on every possession and the defense hits so hard, you'll think that Ronnie Lott is back there. The Trojans have that swagger back that made so good in the early 00's, but don't take that cockiness for weakness because being out of chase for the past two seasons has made this squad very focus and ready to win a national championship.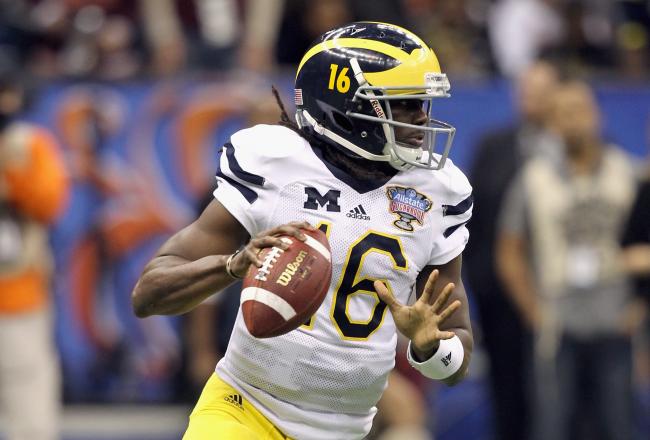 Michigan: Denard Robinson & Co. have the "Big Blue" thinking BCS National Championship, but it won't be easy as they face the defending national champions day one against Alabama. Denard Robinson and the offense will put up huge numbers week in and week out, while the defense should be fantastic in the secondary and terrific at linebacker. The line will have to retool in a hurry, but it'll eventually be fine. If Brady Hoke's club pulls off a win against Alabama, then it's "Game On" for the national title chase even with road games at Notre Dame, Purdue, and Nebraska as part of a run of four away games in six weeks. The Wolverines should be able to get through a tough road schedule without any problems but their true test will be in the last game of the year, when a nothing to lose Ohio State welcomes them to Buckeye Stadium to try and play spoiler of Michigan national title hopes. An explosive offense and now a legit defense Michigan betting big and expecting to win big.
Alabama: THE 2011 CHAMPS ARE HERE! Alabama will be loaded again and it should be even stronger in the passing game, but can the running game continue to shine without Trent Richardson? Can the defense be as good as it was throughout last year without seven major starters? Will the kicking game come through when it has to in the big games? The answer to all of the above is probably a resounding yes as head coach Nick Saban has dealt with these concerns before and has always been able to reload and not miss a step. Eventhough Bama is the defending champs, this is not like in 2010 when they had Juilo Jones, Mark Ingram, Marcus Darius, and Greg McIroy returning with the opportunity to win back to back national championships. A.J. McCarron had a stellar national championship game as a freshmen, but now he gonna be the focus week in and week out for opposing defensives. The defense is going to be good as always, but this is going to be a very young and untested defensive out there every Saturday playing in a very tough SEC. If Bama wants to repeat, it will have to prove it week one when they face Denard Robinson and national title contender Michigan. This team will be good…national championship good, but getting past Michigan and a very tough SEC schedule might be too much for this team to handle.
LSU: The 2011 Tiger were great but lack firepower on offense against top teams when it counted the most….expect this year to be very different. An offensive line paving the way for what should be the nation's most dominant running game, the Bayou Bengals are ready to run the ball down everyone throat. LSU front line is loaded with NFL talent and all the running backs return to bring waves after waves of big, strong pounders to wear down a defense. The Tigers national title hopes took a really big hit when Heisman hopeful and All-American playmaker Tyrann Mathieu was dismissed from the team in early august. Even with the loss of Mathieu, the defense should still be great with the defensive tackle combination of Anthony "Freak" Johnson and Bennie Logan leading the way. The 2012 Tigers will be great, but they might not be quite as good across the board as they were last year. the schedule will be far easier with Alabama coming to Death Valley and with no brutal Oregon-like non-conference games. Going to Arkansas could screw up the dream year in the regular-season finale.